Young adult is an optional life stage introduced in The Sims 2 with the University expansion pack. In The Sims 3 and The Sims 4, it returns as the fifth life stage experienced by all Sims.
The Sims 2
Edit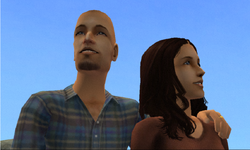 When a teen Sim moves out to go to college, he or she transitions into a young adult and remains one for the duration of his or her college years.
Young adults look like adults, but they have teen voices. On close examination, their faces may appear younger. They move slightly slower than elder Sims, and significantly slower than adult Sims, with a "slouchy" walking animation.[n 1]
Regardless of aspiration, young adults with teen friends may have wants for those friends to go to college.
Because the young adult stage is directly linked to college, it works a bit differently than the other five stages. Rather than being measured in days, the young adult stage is measured in semesters. For young adults, the age bar does not display how many days are left in the stage, but displays what year of college the young adult is currently in (Freshman, Sophomore, Junior, Senior) and how many hours until their next final exam. Once the Sim has graduated, it shows how many hours are left until he or she must leave campus. If the Sim is on academic probation, the bar will be red instead of white.
Young adults can only use clothing which is bought on college community lots. They have some unique outfits, and many - though not all - adult outfits are available to them. In addition, since they use adult bodies, SimPE can be used to make custom clothing made for adults available to them, and much custom clothing for adults is also flagged as being available to young adults. There is a mod that will allow clothes for young adults to be worn by adults, and vice-versa. It will also make young adult and adult clothes available for elders.
There are no days of the week for young adults. This mostly affects their ability to call Sims outside of the college sub-neighborhood. They can do it, but it will always be a work day or a school day for the Sims they're calling. One benefit to young adults, though, is that unlike most Sims, they don't mind being called in the middle of the night and will accept phone calls at all hours, even during the times when their classes are scheduled.
Once a Sim has left college, there are 3 different icons which may be applied to the young adult stage of the age bar. These icons represent how the Sim's university course went.
If there is no icon, the Sim graduated, but not with honors. If the Sim graduated with honors, there will be a gold star.
If the Sim got expelled due to bad marks, there will be a red cross. If the Sim dropped out of university, there will be a white 'o'.
Sim semesters last for 72 hours each, and there are 8 semesters in a full college experience, meaning that under normal circumstances the young adult stage actually lasts 24 days. Dropping out, getting expelled, or getting put on academic probation can alter this. Sims also have the option of staying an additional 72 hours to say goodbye and hold a graduation party. Completing each of the 4 years brings a very valuable upgrade to a Sim's capabilities:
Young adults can only reside in the "college towns"; they cannot live in the base neighborhood. Sims leaving college, for whatever reason, automatically transition to adults and move into the family bin. However, young adults can visit their families and friends in the base neighborhood if invited via the telephone. If Nightlife or later is installed, they can also travel to community lots outside the college sub-neighborhood, and the semester timer will pause while they are there. While no other young adults will appear there autonomously, they can use a cell phone to invite other young adults to the lot. Young adults can get engaged, but cannot marry until they leave college and become adults.
Young adults keep the aspirations they chose as teens. However, at the start of their junior year of college, they have the opportunity to change their aspiration if the player so chooses.
Young adults have majors instead of careers. When young adults look at a newspaper or use a computer, the "Find a Job" option will be absent. If Open for Business is installed, they cannot be employed at a business or open a home business, but they can own a community lot business. However, community lots in the college sub-neighborhood cannot be owned. They can make money by working in a cafeteria, either in their dormitory or on another lot with cafeteria service. If a lot has an espresso stand or a bar, they can make money by working as a barista or bartender. They can also make money by painting or performing for tips, though they won't make much unless their Creativity is high. They can also earn money at the end of each semester for their grades. How well they have done academically determines the amount of money given each semester.
When on college lots, unselectable young adults will often have a near-obsession with doing assignments and research. This even extends to those who are visiting residential lots.
When leaving college, playable young adults receive §20,000 or their share of the household's funds, whichever is greater. The §20,000 is not subtracted from the household's funds, even if the household has more than §20,000.
Young adult townies can be made into playable adults by inviting them to a residential lot outside the college sub-neighborhood and successfully asking them to move in. A young adult townie who joins a non-college household in this way will bring a random amount of funds to his or her new household. If the Sim that proposed moving in is a college graduate, the townie will be considered a graduate, and will be given a non-honors diploma in a major that is consistent with his or her skills. If the townie's skills are too low for any major, he or she will get a diploma from the "Department of Undeclared". This diploma will not allow a Sim to enter the graduates-only careers, but a Sim who receives it will still get the extra want slots and second want/fear lock.
If Lifetime Aspiration is present, a young adult townie moved into a non-college household will be credited with having become an adult, but will not be credited with passing the "Graduation" milestone, even if he or she is otherwise treated as a graduate.
The Sims 3
Edit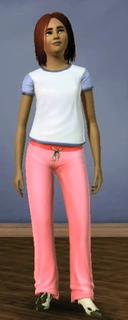 In The Sims 3, the young adult stage is now the default age when entering Create-A-Sim, and is used to represent a wider variety of Sims than in The Sims 2, with young adults seemingly ranging from the age of 18 to somewhere between 35 and 40. The young adult stage is the earliest one in which Sims can start careers, move into houses on their own, get married, and have children. Young adult Sims have five traits and take 21 days on the normal lifespan setting to progress to the next life stage: Adult.
Upon close examination, young adults lack the subtle lines and wrinkles visible on the faces of adults, and female young adult Sims are more likely to successfully become pregnant than their adult counterparts when a couple attempts the Try For Baby interaction. Apart from these slight differences in appearance and fertility, however, gameplay stays largely the same throughout young adulthood and adulthood.
Things that young adults can do that lower life stages cannot:
Things that young adult Sims can do that older life stages cannot do:
The Sims 4
Edit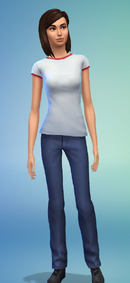 In The Sims 4, the young adult stage is the default age when entering Create-A-Sim. The young adult stage is the earliest one in which Sims can start normal careers, move into houses on their own, get married, and have children. Young adults have the same number of traits as adult Sims and take 24 days in the normal lifespan to age up.
Young adults are slightly slimmer than adults and upon closer examination of the face, young adults lack the wrinkles and lines of adults. Female young adult Sims are also more likely to successfully become pregnant than their adult counterparts after a couple has tried for a baby. Apart from these differences in look and fertility, the gameplay of young adults is largely the same as adults.
Things that young adults can do that lower life stages cannot: