The Sims 4: City Living
Developer(s)
Maxis, The Sims Studio
Publisher(s)
Electronic Arts
Series
The Sims
Platform(s)
Windows, macOS, Xbox One, PlayStation 4
Release date(s)
November 1, 2016 (North America)[1]

November 3, 2016 (Europe, Australia)
November 17, 2017 (console)

Mode(s)
Single-player
Media
DVD or Digital (PC), Digital-only (Mac, PS4, XB1)
Themes
Apartments, City, Nightlife
World
San Myshuno[2]

The Sims 4: City Living
is the third
expansion pack
for
The Sims 4
. The pack introduces
apartments
and
penthouses
and allows Sims to live in and explore the city
world
of
San Myshuno
. It is a spiritual successor to
The Sims 2: Apartment Life
and
The Sims 3: Late Night
, and borrows objects or other elements from several other expansion packs.
The Sims 4: City Living was officially announced on September 12, 2016.[3] It was released in North America on November 1, 2016[1] and in Europe on November 3, 2016. The console version was released on November 17, 2017.
Official description
Edit
Take Your Sims to the City
Do your Sims long to leave the suburbs behind? Fulfill their dreams in the diverse city of San Myshuno, where they can discover exciting neighborhoods, move into a new apartment, check out fun festivals and more. In The Sims™ 4 City Living your Sims can experience the joys and challenges of sharing close quarters with other Sims. Work your way up from a starter unit to a penthouse as your Sims launch new Metropolitan careers!
KEY FEATURES
Explore the bustling city of San Myshuno. This densely populated city has enough unique neighborhoods to give your Sims plenty to explore. Get creative in the Arts Quarter or sing your heart out at the Karaoke Bar in the Fashion District. Head over to the Spice Market to shoot some hoops, or invite a few friends over to play video games after a long day at the office in Uptown.
Discover lively cultural festivals. Festivals are great opportunities to enrich your Sims. Let them watch street performers, enter competitions and meet a wide variety of folks from every walk of life. Check out the Curry Challenge at the Spice Festival or light fireworks with a hot date at the Romance Festival.
Live in apartments and get closer with your neighbors. Lots of new neighbors mean all kinds of opportunities for relationships, both good and bad. Your Sims might make a new best friend or fall in love, then debate giving them a key to their place. And what about those noisy neighbors and their late night dance parties? You'll need to decide how to handle them - if you can't beat them, maybe you should join them.
Work your way up from starter apartment to penthouse. Choosing the right apartment for your Sims can be a challenge. You'll need to balance the charm of your first starter unit with possible setbacks, like cockroaches, leaky pipes or electrical problems. Help your Sims work their way up to living in a Skyscraper Penthouse, with panoramic views and even a Talking Toilet!
Embark on new, metropolitan careers. There are all kinds of new opportunities in the city so make sure your Sims take advantage of them. As a Politician, your Sims can make dramatic speeches while fighting for a good cause. Maybe they'd prefer a more refined career as a Food or Art Critic. Or they could inspire the masses working in Social Media.
New features
Edit
New gameplay objects
Edit
Basketball court
Bubbles
Fireworks
Food stalls
Gaming console
Performance space
Street gallery
Street table
Talking toilet
Wall and ground murals
New gameplay mechanics
Edit
Sims can live in apartments and penthouses.
Five different festivals for Sims to attend.
New Civic Public Access, World Culture Network, and PolitiSim television channels.
New radio stations called Spop, World, and Talk Radio.
Three new careers: Politician, Critic, and Social Media.
Sims can visit new rabbit-hole venues.
Street performing
Spices
Death by Pufferfish
New Singing Skill
New Snow Globe and City Posters collections.
Two new Venues: Arts center and Karaoke bar
Landlord and Vendor NPCs.
Two new traits: Unflirty and Vegetarian
New aspiration: City Native
World and neighborhoods
Edit
The Sims 4: City Living features a new city world named San Myshuno. It is heavily based on a variety of modern cities from around the world like Tokyo, San Francisco, and New York City, and also features elements of Indian, Chinese, Japanese and Moroccan culture throughout the city. San Myshuno is divided into four neighborhoods—Spice Market, Arts Quarter, Fashion District, and Uptown. San Myshuno has a total of 30 lots.
Apartments
Edit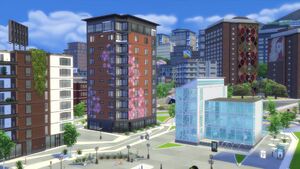 A total of 21 apartment units are available in San Myshuno. Multiple apartments can exist in the same building, along with multiple families and households living in these apartments. Apartment interiors can be heavily modified, but apartment exteriors are not editable.
Apartments in San Myshuno have access to several lot traits that are exclusive to City Living. Some apartments have certain traits pre-selected, and these traits cannot be changed.
Sims in the apartment complex can knock on the door to yell about noise, Sims can enter another apartment within the complex albeit through a loading screen, and then see the other apartment and chat with their neighbor. Sims can give trusted Sims the key to their apartment, allowing those Sims to walk into the household apartment anytime they like.
New apartment buildings cannot be added to San Myshuno, and apartments are not available in any other world in The Sims 4.
Penthouses
Edit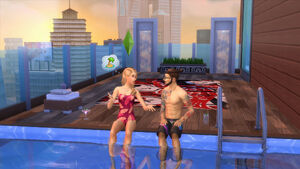 A total three Penthouses are found in San Myshuno. Penthouses are placed on top of decorative buildings that do not have any limitations beyond their lot size, so they can be demolished and rebuilt, much like other buildings on a normal lot.
Living in a penthouse is not very different. But in order to make the penthouse work, the player needs to add an elevator, a recycle bin, and a mailbox. Community lot penthouse also needs an elevator for Sims to travel up and down the building. Other Sims will visit these lots the same way as they do in normal community lots in other worlds.
As with apartments, penthouses are also not available in other worlds and are only found in San Myshuno.
Festivals
Edit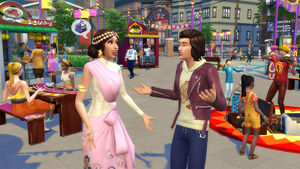 In City Living Sims can now attend different festivals. There are five festivals: Geekcon, Humor and Hijinks Festival, Romance Festival, Spice Festival and Flea Market that take place around the different districts of San Myshuno over the course of a two-week cycle.
In apartment buildings, there is a bulletin board, where Sims can use the "Read About Festival" interaction to see when the next festival is going to take place and what activities, competitions, and schedules this festival has to offer. Festivals can also be read about on dynamic signs located in different parts of San Myshuno.
When a festival is about to begin, an identifying jingle will play and a notification will appear letting to know that the festival is about to begin. This notification also can be used to teleport Sims to these festivals, if they are located in another neighborhood. Festival objects and activities will appear in the neighborhood where the festival is located in, and disappear when the festival has ended.
City Living introduces three new careers: Critic, Politician, and Social Media. Each career track has two career branches. These careers include interactive career assignments, where Sims in these careers have job tasks that take them to various locations around their world.
If a Sim works in one these three careers, an hour before the Sim is going to work, an alarm notification will appear on the phone. There the player can choose to either "Go to Work", "Work from Home" or "Take the Day Off".
If choosing the "Work from Home", the game will generate two randomized tasks for the Sim to complete, in order to gain boost to their job performance that is added to the payment received when the day is over. If these tasks are not done by the Sim they were assigned to, the boss will be disappointed and job performance will be lost.
City Living was priced at $39.99 USD and £29.99 GBP at launch, the same as the original pricing of an expansion pack for The Sims 3. Expansion pack prices for The Sims 4 are intended to be similar to prices for The Sims 3 expansion packs in most locations.
This is the second expansion pack of The Sims 4 to not include a playable life state.
Alternative
Edit
All Tvvins - Thank You
Car Seat Headrest - Not What I Needed
Lucius - Something About You
Mating Ritual - Just Fire
The Soaks - Chur Nayavuya
The Strumbellas - We Don't Know
Tim Wheeler - Way I'm Feeling
Frida Sundemo - Dreamers
Imad Royal - Bad 4 U
Lizzo - Worship
Roy English - Wasted Youth
Tegan and Sara - Stop Desire
Kenichi Suzumura - SHIPS
Sayaka Sasaki - WASTELANDERS
Shuhei Kita - Kinzakura no Chigiri
ZAQ - Philosophy of Dear World
Alies Sluiter - Happy Traveller
Jody Jenkins - Grand Souks
Paul Mottram - Freygish Dance
Angel Lam - Life Sketches
Igor Dvorkin - Kalinka
O'Brien Browne - Dilruba
HughesKkoshi - Spirits Dance
Dvorkin Pittock - Ionika
Neil Williams - In The Wild
References
Edit